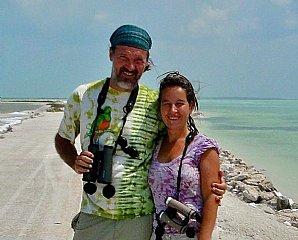 Gábor Orbán
participated in his first birding camp during the 70's as a young boy at Lake Kondor and became engaged in birding instantly. Later he became a ringer and broadened his interest in zoology, especially mammals & butterflies. During the 80's, 90's he lead several tours first in Hungary, later in other East European countries and Western Europe as well. He lived and worked for years in the US at such different states like New Mexico & New Hampshire; criss-crossed the continent several times. He became a licenced professional birdwatching and nature guide and set up Ecotours Ltd. in the 90's. Since 2006 each year he and Andrea, his wife who is also a licenced guide spends 6 months in Latin America and the other 6 months in Eastern Europe, based at their own Ecotours Kondor EcoLodge, Kiskunsag National Park, Hungary; just a stone-through away from Lake Kondor where Gabor started birding decades ago. He is leading various birding, nature & culture, butterfly and photo tours Worldwide. His passion is to share his knowledge of nature and culture of different countries with his groups. Hobbies are: wildlife photography, birding and travel to hidden places.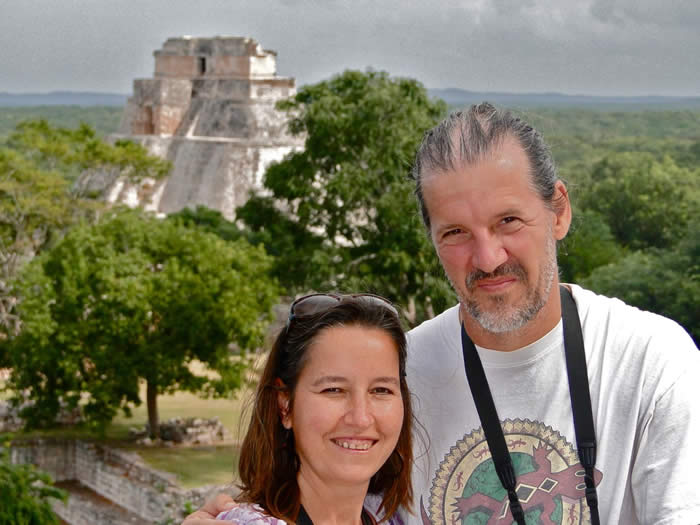 Andrea Katona is wife and partner in work of Gabor and also a professional, licenced guide with working permit in Hungary and in Mexico as well with a lot of years of experience. She is degreed in Italian linguistics and literature and also fluent in English and Spanish and with Gabor they get along really well in Hungarian as well! :) Andrea with Gabor spends every half year in Mexico, where they have their second base for their tours. She is expert in Latin American culture, specially Mayan, but also enjoys spotting any creatures in tropical forests and love beautiful birds, dragonflies, insects. Since she was a young girl with her parents she went to forests walks, watching birds and nature. She was a guide in Tunezia and Sicily for years. In Mexico and Latin America they lead tours together whenever it is possible, Nature & Culture hands-in-hands or All-in-two as they usually say. It is a win-win situ for all, a very successful combination. If within a group there are some who would like to learn more about for example Mayan culture Andrea is ready to fill them with tremendous amount of interesting stories, while others can look for more birds, butterflies, nature & fun with Gabor.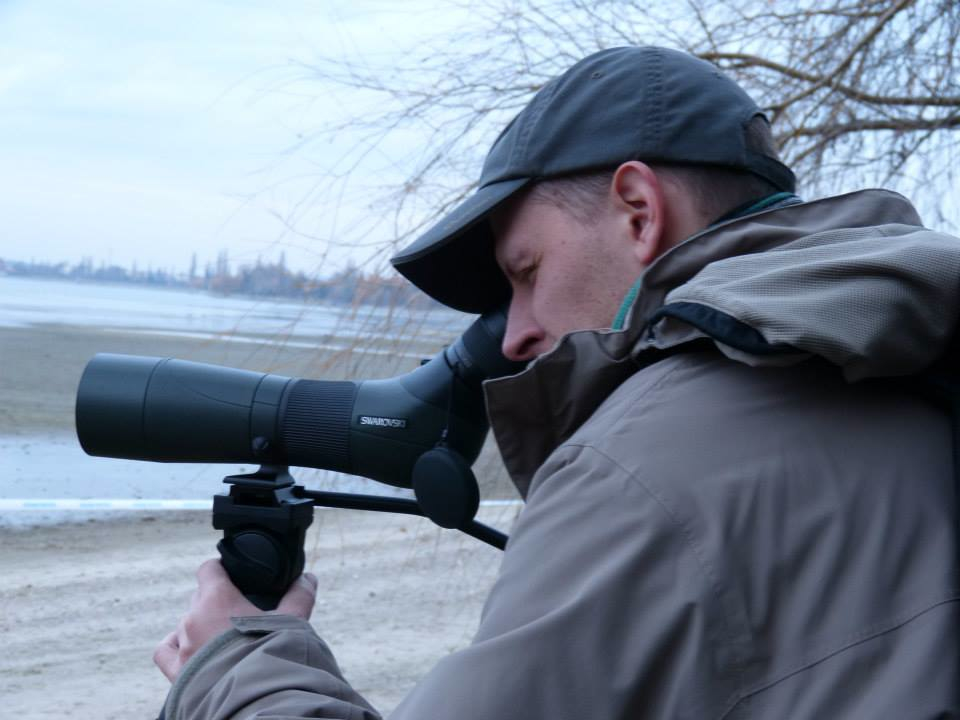 Csaba Lendvai graduated at the Eötvös Lóránd University, Budapest as a biologist. He has been a keen birdwatcher since the age of fifteen. He works for BirdLife Hungary as a coordinator for waterbird monitoring and white stork conservation programs. Since 2004 he has been Secretary of the Budapest Local Group of the BirdLife Hungary assisting in the public enviromental education events of the Society. His favourite birding sites in Hungary are Kiskunság National Park, the Danube Bend, Lake Balaton, and he has a particular interest in the wildlife of Budapest. Csaba has travelled widely visiting Belarus, Turkey, Georgia, Egypt, Croatia, Poland, Slovakia, Azori Islands, Peru, Colombia, India, the Gambia, Cambodia, Thailand, Mexico and many more countries.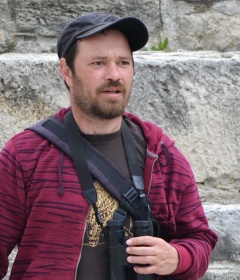 Martin Hrouzek a long-time friend and partner of Gabor and they had several projects together during almost 2 decades. Martin owns Arnika Travel in Czech Republic. They have co-lead tours in Slovakia, Czech Republic, Hungary and develop new itineraries & destinations such as Macedonia, Greece, Cyprus or Belarus, Georgia. Martin is an experienced all around naturalist guide, who can lead birding, butterfly or wildflower tours especially in Czech Republic, Slovakia, Hungary but Macedonia and other Eastern European destinations as well. He is enjoying taking photographs, especially landscape and macrophotography. Martin and his Czech amd Slovakian friends, such as Petr Pavelcik helped enormously to carry out an extremely successful nestbox project during years in the Kiskunsag National Park, providing new oppotunities for species like Roller, Scops Owl, Little Owl, Hoopoe and even Saker Falcon. Martin also helps NGOs.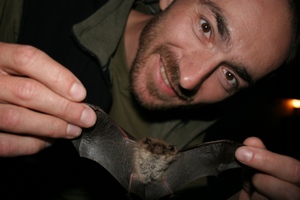 Stefan Matis
has attended an agricultural school and started to work as a researcher in 1989. His area of research included the study of the population dynamic of several species, such as Eagle Owl, Rock Thrush, Red-backed Shrike etc. He has achieved good results in protecting Corn-Crake, and he is also an active bird ringer having an official license since 1994. He is ranger of the Slovak Karst National Park. In 1993 he broadened his interest and started to study bats. He is the main organizer and coordinator of the faunistical study of the bat fauna of Eastern Slovakia. He has prepared several protection plans and also author and co-author of many 30 scientific articles.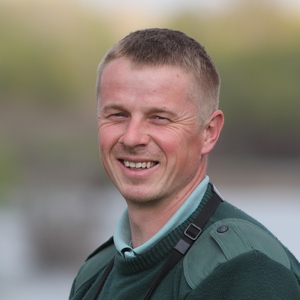 István Bártol graduated as a biologist at the University of Science in Szeged in 1997 and attended a bird ecology PhD course between 1997-2000. Since then he has been working as a warden in the Kiskunság National Park. Being another enthusiastic and friendly member of the Ecotours team he is tirelessly looking after our clients ensuring a great holiday. He speaks English, Serbian and Spanish, and he has widely visited Europe including the countries of the former Yugoslavia, Romania, Poland, Finland, Ireland, Spain and Portugal. He has a bird ringing license since 1995. István has three children and lives in Tiszaalpár, a quiet and beautiful village on the border of Kiskunság National Park.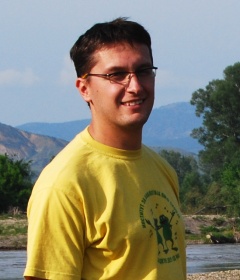 Dime Melovski is foremost Macedonian lepidopterist who works for renowned NGO called Macedonian Ecological Society. Dime is now the key authority who revises the old data on Macedonian butterflies. Another Dime's major activity is Balkan Lynx Project. He is very friendly and fluent in English and will guide the butterfly tours to Macedonia. With him we hope to uncover some new corners of this beautiful but little known country.
Lukáš Spitzer made his grade on butterflies and leads a research on Large Blue and Niobe Fritillary in his region, western Carpathian mountains. He has concluded his PhD. studies recently and besides his regular occupation in a museum he also works for the Czech Academy of Sciences. Lukáš guided butterfly tours for Naturetrek and travelled extensivelly to Altai, Africa, Balkans and eastern Europe. He will guide butterfly tours to Slovakia, Macedonia and Romania.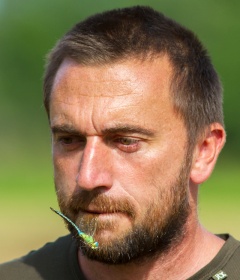 Martin Waldhauser is a Czech dragonfly expert. He is one of the authors of "The Dragonflies of the Czech Republic", probably the biggest dragonfly book ever published. Martin is in his fourties and you cannot wish a better companion and dragonfly enthusiast to guide you through the north Bohemia where he lives and works at Landscape Protected Area Luzicke hory. He will give lectures in field and one or two slide shows before dinner. Martin and is also a renowned dragonfly photographer.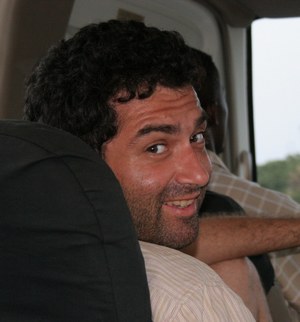 András Soós graduated at the University of Veterinary Science in 1995. After that he has studied at the University in Canterbury for a year, from 1998. He obtained his diploma on Endangered Species Management. In 1996 he spent a month in Tanzania, documentary filming chimpanzees with Jane Goodall at the Gombe National Park. He is presently the Head of the Veterinary Department at the Budapest Zoo. András is a keen birdwatcher, besides Hungary and Europe he visited Kenya, India, Ecuador, Australia and Ghana. He is member of the Hungarian Ornithological Society since 1980 and the Hungarian Nomenclator Committee since 1998.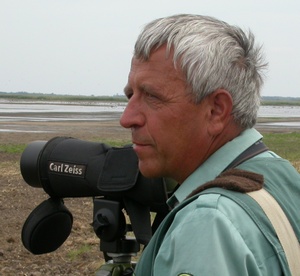 Gábor Kovács worked as a ranger at Hortobágy National Park for decades. His knowledge of the area and its wildlife is legendary. He wrote and contributed to many publications on the avifauna of Hortobágy. He is a talented and keen nature photographer; his photos appeared in a wide number of books and periodicals. Now he is retired but still lives at his beloved Hortobagy area.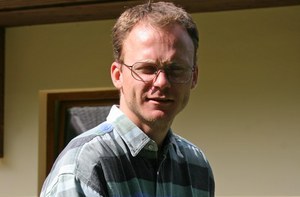 András Bőhm has been watching birds since 1984. Graduated as a biology-geography teacher, he has been working for nature conservation since 1997. He wrote his PhD on the ecological character of wetlands of international importance. András is an experienced field ornithologist. His special field of interest is wetland ecology, raptors and passerines. Between 1992 and 1998 he was leading a monitoring project on common bird species in Hungary. His friendly and calm manner ensures you will have a great time with him. He has an excellent knowledge in botany and he is familiar with butterflies as well.
Dusan Karaska
is a zoologist at the Museum of Orava, Oravský Podzámok. He is member of the committee of BirdLife Slovakia and member of the Slovak Rarities Committee. He is commissioner of BirdLife Slovakia for bird-ringing exams, national co-ordinator of the Black Stork ringing program and is member of the editorial board of the ornithological journal Tichodroma of BirdLife Slovakia. He is co-ordinator of the Polish-Slovak program "Breeding distribution of the birds in Orava". He participates in the program of Monitoring Raptors and Owls in Europe and he is regional co-ordinator of the Orava region in the International Wintering Waterbirds Census. He published over 200 articles on the research and protection of animals and birds