Bükk, Aggtelek National Parks, 8 days
This butterfly tour is designed to visit some of the most hidden places in Hungary with using just 2 bases during 8 days! By this way we can discover the North-Eastern part of Hungary in details. One of the best areas in Central Europe to spend at least a week with butterfly-quest is in the Bükk and in the Aggtelek National Parks.
Itinerary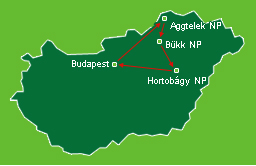 1
After the arrival at Budapest Airport, we head north-east towards the Aggtelek National Park. It is a long drive, but depending on your arrival time we can stop at suitable butterfly-rich sites or we hit the highway and stop just once or twice to admire Imperial Eagle or other highlights. We stay at an excellent hotel owned by the Aggtelek National Park in the middle of nice woods.
2
Over the next days, we shall explore a mixture of habitats ranging from very dry hillsides to wet valleys. Today we explore Jósvafő, at a remote hiking trail among many nice species, we will find some rarities, like Chapman's Blue, Mountain Alcon Large, Osiris, Lesser spotted Fritillary, Pallas's Fritillary.
3
We will start our day with a walk from our hotel to a nearby stream coming from the cave system. We cross Jósvafő, a cosy village with many traditional 100-year-old houses surviving and a stream running through the middle. Along the stream there are usually "clouds of butterflies". We follow the path alongside the stream through a nice little gorge up to a wet meadow. Key species: Sooty Copper, Mountain Alcon Blue, Meleager's Blue, Chalkhill Blue. Finally we will walk back towards Jósvafő village and up to our hotel.
4
Again, not far from the hotel, we will try to complete our list from this area.
At least 6 Skipper species are around including Lulworth Skipper and Safflower Skipper.
After eating our packed lunch we can continue our butterfly-quest around Aggtelek or we highly recommend to take a marvellous cave tour into the Baradla dripstone cave system, which is now a designated world heritage site, with a music and light show in the "Giants Hall".
In the afternoon we travel to Bükk NP, we shall stop to search for Hungarian Glider and White Admiral.
5
The southern part of the national park is generally well grazed with areas of longer grass, rocky outcrops and scrub. These variations in vegetation and an abundance of wild flowers mean high insect diversity. Glanville, Knapweed, Spotted and Lesser Spotted Fritillary are all common, together with Silver-studded Blue, Marbled White, Small Pearl-bordered Fritillary and False Grayling.
6
The heart of the Bükk Hills is famous for its karst plateau. The place attract hilltoppers like the Common and Scarce Swallowtails with a possible late Clouded Apollo. Southern Small White, Mountain Green-veined White and Fenton's Wood White will be among the more challenging species to seek out. In the afternoon we visit the humid Hor Valley. Several Copper species fly in this area including Purple-shot, Large, Scarce and Purple-edged, joined by Small, Chestnut and Pearly Heath. Duke of Burgundy, High Brown and Niobe Fritillary are all common species.
7
For today we suggest a day-long circle trip to the Hortobágy Region where we will spend our final full day.
This area is the birders' Mecca with its amazing variety of birds, but There are also many other great butterfly species as well such as Swallowtail, Scarce Swallowtail, Eastern Bath White, Eastern Pale Clouded Yellow, Large Copper, Grizzled Skipper and Small Skipper.
8
Today, we travel to Budapest for our flight home. If time permits we might take a short sightseeing trip to Budapest or we drive directly to Ócsa (Kiskunság NP), to have a look on one of the most impressive Romanesque churches in Hungary and the Great Bustards.
Strict Standards
: Only variables should be assigned by reference in
/home/can10001/public_html/ecotours.hu/plugins/content/jw_allvideos/jw_allvideos.php
on line
42
Strict Standards
: Only variables should be assigned by reference in
/home/can10001/public_html/ecotours.hu/plugins/content/jw_allvideos/jw_allvideos.php
on line
43
Strict Standards
: Only variables should be assigned by reference in
/home/can10001/public_html/ecotours.hu/plugins/content/backbutton/backbutton.php
on line
40