Butterflies in Western Hungary, 8 days
This butterfly tour is designed for those who don't want to travel from one area to another but want to discover a region in details from one base. One of the best areas in Central Europe to spend at least a week with butterfly-quest is in the Bakony Hills and Balaton Upland National Park, Western-Hungary.
During this 8-day-long tour we visit Bakony Hills and Balaton Upland National Park plus our newest National Park, Őrség at the border of Austria and Hungary. Scenery is excellent and you get some feel of the culture of the areas visited. The trip will be escorted by local lepidopterist guides who both speak the language and are specialists in the natural history of the areas we plan to visit. We hope to see close to hundred species including many rarities.
Itinerary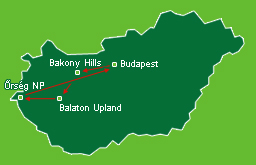 1
After the arrival at Budapest Airport, we head north-east towards the Bakony region centred around Lake Balaton. Bakony Hills is a mixture of mainly limestone, ancient sandstone, granite and volcanic rock. During our first stop we can find Eastern Bath White, Eastern Short-tailed Blue, Reverdin's Blue, Woodland Ringlet. In the evening, if the conditions allow, we will run a moth trap near our hotel.
2
Most of our time over the next few days will be spent in the countryside around Herend and Markó where oak, beech and yew tree woods alternate with steppe like meadows. Today we will check part of this area which is rich in Fritillaries, Coppers and Hairstreaks and we will also search for species such as Green-underside Blue, Mountain Alcon Blue, Lesser Clouded Yellow, Mountain Small White and Dusky Meadow Brown.
3
Today we will visit an attractive valley at the Balaton Upland where Sloe, Ilex, Blue-spot and White-letter Hairstreaks should be on the wing and in some of the wetter areas we should find Large Copper and the Nettle-tree butterfly.
4
First we will visit a nice valley which gives a second chance for the species we missed yesterday, plus offers Large and Scarce Copper and a real bonus would be Assmann's Fritillary.
The area around Úrkút is famed in Hungary for its unique geological formation – a primeval karst with many fossils dating back 200 million years – which holds a very interesting flora and fauna which we shall be able explore at our leisure.
5
For today we suggest a day-long circle trip to our newest national park, Őrseg NP at the western border of Hungary.
It is characterised by damp herb-rich meadows and subalpine vegetation. The main highlights should be Idas and Dusky Large Blue, plus many different Fritillaries including Marbled Fritillary, Lesser Marbled Fritillary, Weaver's Fritillary.
6
Again, not far from the hotel, we will try to complete our list from this area. Nearby Kőris Hill with its extensive beech forest has strong populations of both Purple and Lesser Purple Emperor. Later we can visit the botanical garden at Zirc where Large Tortoiseshell, Scarce Large and Dusky Large Blue have all been recorded.
Another optional programme, if there is time and interest, is to visit the local Natural History Museum which boasts of a large collection.
7
We will spend our final day in the Bakony region close to Herend. This tiny village produces world-famous handmade porcelain. We also dive up to a nearby hill which offers among many other species White-letter Hairstreak, Small and Scarce Copper, Purple Emperor, Camberwell Beauty, Spotted, False Heath and Nickerl's Fritillary, Pearly Heath and Large Chequered Skipper.
8
Today, we travel to Budapest for our flight home.
If time permits we might take a short sightseeing trip to Budapest or we drive directly to Ócsa (Kiskunság NP), to have a look on one of the most impressive Romanesque churches in Hungary and the Great Bustards.